Seven-time World Drivers Champion and record holder for most F1 wins, Lewis Hamilton gets candid with James Corden on Talking Big. Lewis Hamilton shares the screen with NFL star Tom Brady as the men discuss various aspects of their careers. Some are serious and some are extremely personal.
ADVERTISEMENT
Article continues below this ad
In the video, the titans of their respective industries talk about their visions and beliefs, the stories that led them where they are today. This also included topics about the crucial importance of timing that the sport demands.
ADVERTISEMENT
Article continues below this ad
As James grilled the men about their lives, he asks if either of them had any superstitions as he claimed that he'd never met a single sportsperson who wasn't superstitious.
To this, Tom Brady swiftly replied that he didn't have any superstitions. As Gordon gasped in disbelief, Lewis did go on to tell a story of his past about him.
I have narrated, "So I did (have a superstition), when I was younger. I think I must've been 10 or 11, and my brother gave me this conker. And it was my lucky conker. So I put it in my suit. And I don't know what happened to the damn thing. Came out my leg, trouser leg or something, I lost this conker."
"And then I had a lucky pair of underwear. My mum shrunk them."
Furthermore, he shared how up until he was 17 or 18 years old, he'd have a routine that he'd go about before the race. he said, "These steps that I would take. And I remember I got in the car, I was in Germany, And I'm about to start the race, and my helmet wasn't done up. So I've missed one of those elements of these steps that I had made crucial to getting the job done. And I remember I crashed several seconds later."
"After that I was like, this is ridiculous."
"And now, I'm like Tom, I don't have any of those things," Hamilton said, smiling.
This wasn't the first time Tom Brady and Lewis Hamilton were together. They've shared interviews before and are always seen uplifting each other.
Tom Brady is all praises for Lewis Hamilton
In conversation with Sky Sports, Tampa Bay Quarterback, Tom Brady talks about the power of sports! It's a competition against the best and that doesn't always end in a win.
he said, "I try to tell that to my family, to my kids, sports are hard. You're going up against the best competition in the world. You're not supposed to win every time."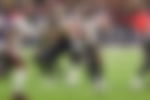 "We have scoreboards. We get to see every week how we did. And every week we get to dig deep on our personalities, on our relationships, and they just hone your skills. Lewis has done that all over the world."
ADVERTISEMENT
Article continues below this ad
"Look at F1, what they want to do, on a global scale. I think we try to do that with the people we affect. That's the bonus, that's the payoff in sports."
Mercedes' Lewis Hamilton agreed as he said, "Teamwork makes the dream work, right? Everyone coming together, that's the greatest journey that you go on."
ADVERTISEMENT
Article continues below this ad
Watch This Story: The Real Truth About Lewis Hamilton Zendaya Dating Rumors
It's always wonderful watching athletes rise to the top as we cheer them on. And, it's even more wonderful to watch them have each other's back as they continue to grow. Talk about sportsmanship!